Choosing Domains
Your domain name represents the address under which website visitors find your website.
They put the "www.yourdomainname.com" into the address bar at the top of a web browser to find your site. This is also the address used to link from one website to another.
Your domain name also makes up the end of your email address. The part after the @ (at) sign. For example yourname@yourdomainname.com.
Choosing the right domain name is important, as discussed HERE.
The holy grail for any business is to understand its customers and consumers, in order to choose the best domain names and text content (keywords) for you site.
(Form to help you choose your keywords)
How we can help:
Finding the right domain names
Whilst your knowledge of your industry and clientele will be invaluable, our web and marketing teams experience will ensure the best choices are made. International country domain extensions can be found here, for clients who wish to go worldwide.
You may check yourself whether your chosen domain name is available, HERE.
Registering your domain names
For clients that have been in touch with us and are considering our services, we carry out the process of registering your domains for free.
No charge is added on top of the cost of registration set by the domain registrar (www.ukreg.com) which currently stand at £6.93 for co.uk. domains for 2 years and £11.75 for .com, .net and .org domains per year. (subject to change by the domain registrar).
Domain Registration Order Form - An order form can be found HERE.
What to do next
Either as a current client or a new one, we are on hand to help you set up the domain name and email addresses needed to support your business online. Getting it right now, before your competitors, can lead to a great return.
Contact us on 0845 330 2550 to discuss how much business is passing you by.
Being easy to remember
If your domain name is long or hard to remember it will cost you word of mouth "viral" enquiries.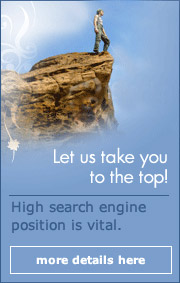 We can combine our Web departments "manage your own site" Content Management System with other parts of your business