Creating a Site
There are choices to make when designing a new website.

Website Appearance
Normally the design should build on your current corporate image, as the foundation for all your media. A review of current paraphernalia and brand is wise.

It can be swift or more comprehensive, via our graphics personnel.
Decision to make:
Corporate Colours?
Are there are any additional colours to those displayed in your logo
(colour scheme tool)
Website Navigation/Layout
The layout of the site is often determined by the company it represents and the content involved. It is good to decide on a basic site map. A list of pages and functionality (features).
Decision to make:
The sites size needs to be decided as either 800 or 1024.
Typically 1024 is chosen (size shown here), however many of our public sector clients have to accommodate all users, making 800 the choice (size shown here).
Decision to make:
The sites shape needs to be decided as either 'Fixed Width' or '100%'.
Is it set, in the middle or to the left, with the design being exactly as intended?, or does it expand out the side, to fill all the available screen? (more here).
With increased Internet speeds web designers can now make websites with far more images (Flash animation can be added too).
This allows for for some unique and interesting layouts:
Decision to make:
Which forms of navigation should the site have?
Horizontal Navigation
Some opt for a cleaner layout with a small number of links, often across the page, as a 'Horizontal Navigation'. This is suitable for a site that will never need more than 7 navigation links, and will around less than 25 pages. More can cause the user to get lost, within the sites many sub pages, as they are harder to navigate.
Decision to make:
Content?
How many links will your navigation need to hold?
Vertical Navigation
Historically, a typical business site had a 'Vertical Navigation', down the left hand side. This ensures the most important navigation links (titles) can always be shown to the user and allows the site to grow, as it evolves.
Many clients have wished they had not opted for a 'Horizontal Navigation', once they ran out of space for their navigation links.
Some sites need to accommodate more than one brand or several core service/product range (more). Others simply have a lot of pages and sections.
Sites with a 'Vertical Navigation', often have a small vertical one too.
In the form of a sub navigation.
Sub Navigation
Content?
How many links will your navigation need to hold?
If there are more than one core audience, a large 'secondary navigation' can lead users to their specific content. Alternatively the same could be used for companies with 2 or 3 specific types of product or service

Secondary navigation can also be smaller and focused on "corporate information", leaving the main navigation for the products and services
It can appear in several positions and within the content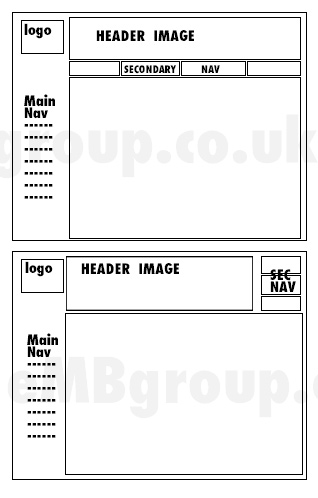 Naturally appearance is just the start.

The site has to be filled with good relevant content that serves your needs and the visitors (Good keywords and imagery)

Please speak to your project manager or contact us here, for more assistance.
A large amount of other free website design and creation advice can be found here: www.siteadvice.co.uk
Why be careful on layout?
Usability is about helping visitors find the information that will interest them.
Revenue is most often made by offering good, relevant, content that meets your business goals.